Read top tips for candidates working with recruitment companies in India at BT Consultancy. IT provides such type of information in their web blogs.
Today candidates are relying on recruitment companies to get their dream jobs. No doubt that recruitment agency understands your needs and interests and offers you the best positions accordingly. In this blog, we will share some helpful tips that you should keep in mind while working with a job consultancy in India.
Do your research
Research is an extremely crucial element before choosing a job consultancy in India. It is because recruitment companies work for different industries so make sure you choose the one who is working in a field relevant to yours.
Take the interview seriously
As they say, 'First impression is the last impression you must take your interview seriously to impress your recruiters. Be punctual, dress properly, and speak politely.
The recruiters have connections in large organisations so you must show them how you are different from other candidates.
Come prepared
Be prepared to speak about yourself such as your qualification, previous experience, etc. Keep in mind that if you seem confused while answering these basic questions then it will give a negative impact. Also, bring your resume along with credible references.
Be honest
Be very clear about the type of positions you are looking for to avoid any frustration in the long run and save recruiters time.
Keep an open mind
If recruiters are offering you a temporary job, don't feel reluctant in availing the opportunity because sometimes these positions may lead to a full-time job. Moreover, it will also help you in growing your professional network.
Learn to say no if the job is not right for you
If you don't feel comfortable with the position you are being offered then you must say no right away and tell your recruiter why you are turning down that opportunity.
Ask questions
Before you start working with recruitment companies in India make sure to ask the right questions to clear all the confusion.
Communicate
Keep in touch with your recruitment agency and ask if there are new vacancies available that meet your credibility. The more you tell them, the more they can help you in finding your dream job.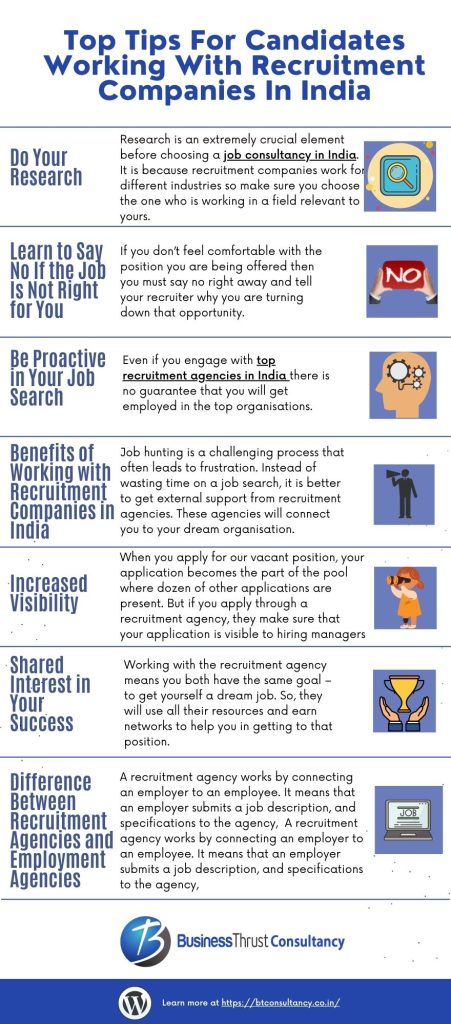 Take advantage of additional support
Recruitment agencies understand the need of employers and they can support you in editing your resume and preparing for an interview.
Be proactive in your job search
Even if you engage with top recruitment agencies in India there is no guarantee that you will get employed in the top organisations. So you must keep looking for jobs on unemployment websites so you never miss out on any opportunity.
Benefits of working with recruitment companies in India
Job hunting is a challenging process that often leads to frustration. Instead of wasting time on a job search, it is better to get external support from recruitment agencies. These agencies will connect you to your dream organisation.
Let's learn more about the benefits of working with recruitment agencies:
More opportunities
Many reputable organisations don't always advertise the available positions instead they directly contact recruitment agencies to help them find the ideal candidate for the position. So, if you engage with an agency you will have access to more opportunities and your chances of getting jobs in reputable companies will increase significantly.
Save time
Finding jobs is a long and time-consuming process but not if you establish a working relationship with recruitment companies. These agencies will find the job based on your qualifications, and experience which means you no longer have to worry about hunting for a job.
Expert advice
Recruitment agencies have expert recruiters who will help candidates with their resumes, cover letters, and interview. From giving you advice on how to showcase your qualifications and experience to helping you acing the interview, they have got your back.
Increased visibility
When you apply for our vacant position, your application becomes the part of the pool where dozen of other applications are present. But if you apply through a recruitment agency, they make sure that your application is visible to hiring managers as they have direct communication with them.
Confidentiality
Agencies will help you in finding a better job while keeping your personal information confidential so that your employer doesn't come across your resume.
Insight into employers
Recruitment agencies know what employers look for in a candidate and they will give you the insights which otherwise you would never know. By reducing the guesswork, they increase your chances of getting the job.
Shared interest in your success
Working with the recruitment agency means you both have the same goal – to get yourself a dream job. So, they will use all their resources and earn networks to help you in getting to that position.
Difference between recruitment agencies and employment agencies
Recruitment agencies and employment agencies Work in the same way but they differ from each other depending upon the services they offer.
A recruitment agency works by connecting an employer to an employee. It means that an employer submits a job description, and specifications to the agency, and then they start finding the perfect candidate for that role. They mostly look for a skilled person to fill the vacant position.
On the other hand, the employment agency works for the job seeker. It means that when a candidate registers with the agency only then they will start looking for available positions. They will help almost every job seeker whether they are skilled or unskilled.